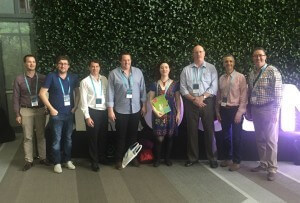 Brisbane played host to XerCon South early September 2016, the world's most beautiful and innovative conference for cloud accounting leaders in Australia, NZ and Aisa.  DFK Hirn Newey partners Paul Fiumara and Gavin Johns, and managers Mitchell Brooks and Jessica Jakeman, along with 2,000 other delegates, attended the event that opened each day with a DJ, had a playground to enjoy and worldwide speakers who shared their invaluable knowledge.  With over 80 exhibitors, XeroCon was a great opportunity to further explore the ever-expanding Xero ecosystem.  Meeting face to face with a multitude of Xero add-on app vendors allowed our team to learn more about how these products can add value and efficiencies for our clients.Gavin Johns, Dandapani, Paul Fiumara
The conference also provided a wide range of industry-related workshops and speakers including Dandapani, a former Buddhist monk and entrepreneur, who offered valuable insights into focus and conscious accounting and Rachael Robertson, speaker, author and Antarctic expedition leader – not to mention the various key Xero personnel who presented updates on the future of Xero and cloud accounting.  While at the conference, our team met up with colleagues from DFK Gray Perry, DFK Everalls and DFK Laurence Varnay who travelled from Adelaide, Canberra and Sydney to attend.  Paul and Gavin also caught up with Xero founder and CEO, Rod Drury and Xero Key Accounts Manager, Gavin Fernandes.
DFK Hirn Newey look forward to continuing our valued relationship with Xero as a Gold Partner and are excited to share with our clients the many benefits of Xero and its add-ons.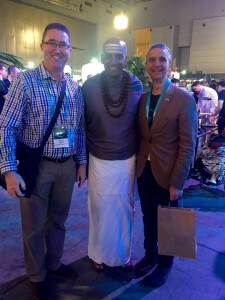 Gavin Johns, Dandapani, Paul Fiumara